Talent Turnaround
In 2019 MCAC launched Talent Turnaround in Cherryvale High School as a pilot program to encourage local students to seek high demand jobs in Montgomery County. Talent Turnaround is a workforce initiative that focuses on exposing our youth to a wide variety of industry careers that are in high demand for local businesses. Extra focus and attention is given to STEM careers and encouraging students to explore science, technology, engineering and math careers.
In an effort to best serve our local business and industry we are focusing on those high-demand positions.  In 2019, students have heard from CVR Energy, John Deere Coffeyville Works and Acme Foundry. Students heard presentations about each industry, and their role in the community and what a "day in the life" might be at one of these local businesses. Students asked questions about college or certificate requirements, and future positions in demand, while even getting a chance to do a little hands-on learning. Acme Foundry brought in their "Foundry in a Box" experiment and guided students through poring actual castings made from melted tin.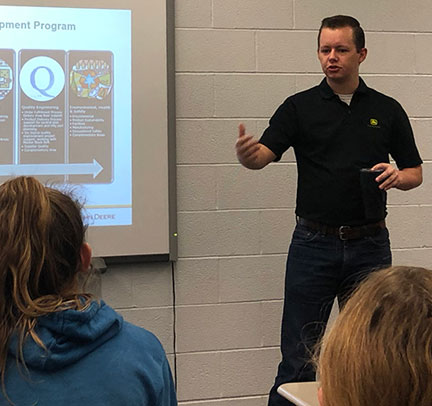 The goal of Talent Turnaround is to help area students understand the wide variety of available jobs in this area and assist students make good career decisions as they start to look at their post-secondary education options.
MCAC will continue to develop Talent Turnaround in 2020 by finishing the pilot program in Cherryvale and expanding programing. MCAC will actively pursue rolling this program out across all schools in Montgomery County during 2020.  By developing key Champions in each school as well as industry partners to guide the program, MCAC can have a positive impact on the future workforce in Montgomery County.