Freedom Meats, Caney, Kansas: An appetizing selection of quality meats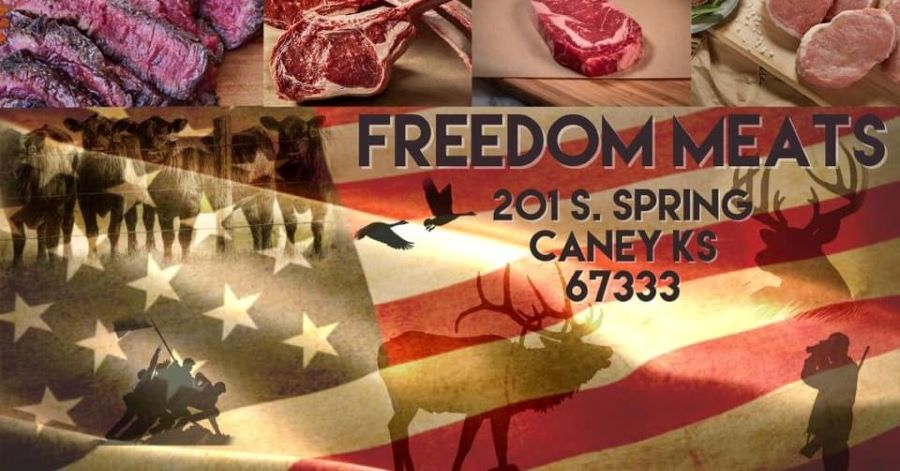 In November 2021, 8 Kansas meatpacking plants received grants to improve the capacity and efficiency of their facilities. They were the recipients of the Meat and Poultry Inspection Readiness Grant (MPIRG) program, part of the Requiring Assistance to Meat Processors for Upgrading Plants Act (RAMP-UP). The RAMP-UP Act will provide $55.2 million in grants for small and mid-sized meatpacking plants across the country so that they can become federally inspected, and thus be able to sell their products across state lines.
Freedom Meats, LLC, nestled in Southeast Kansas within the City of Caney, Montgomery County, Kansas is one of the 8 packing plants in Kansas to receive the $200,000 grant. Functioning as a custom exempt, multi-species slaughter and processing facility, Freedom Meats currently employs a total of four employees, and hiring an additional seven to ten employees is on the cards.
Josh Harris started Freedom Meats in the month of July 2021 and processes cattle, swine, and deer. One of the few meat processing plants in the area Freedom Meats will be able to process between 25-30 livestock per week when it starts operating at full capacity. Currently, Freedom Meats is in the process of becoming recognized as a USDA Federally Inspected Processing Facility.
Freedom Meats: Building a rock-solid bond with customers
The Covid-19 pandemic has made it challenging to run a fully -functioning meat plant. But Josh has not only been able to successfully run his business but has envisioned ramping it up in size and strength. These are some of the factors that Josh keeps in mind while serving his customers:
He makes sure that all his products are safe and meet regulatory requirements. He sees to it that all the documentation and plan activities are verified and reviewed regularly. He also makes sure that his employees know their responsibilities and that new employees are trained effectively.
His produce is attractively packaged. Freedom Meats believes in presentation and goes all out to keep its customers happy.
Josh has built a strong bond with his suppliers - livestock, equipment, packaging, and manufacturing, helping him to stay aligned with his operation targets.
He provides a safe environment for shoppers, ensuring that safety protocols and procedures are followed in the store.
How the grant will help Freedom Meats to grow and expand
Josh states, "The grant will help us to expand the current meat processing facility to accommodate the increased processing production. This is needed for the retail meat operation and also to purchase new processing equipment, in order to meet the demands of the retail meat operation."
In addition to the new equipment and expansion project, Freedom Meats, LLC will need to provide Food Safety and Meat Processing training for all new employees, develop a Hazard Analysis Critical Control Point (HACCP) Plan, Sanitation SOPs, and provide the necessary documentation to FSIS. The expected outcome of this project is increased revenue from the increased production, expansion of the current facility, job creation, and being a recognized USDA Federally Inspected Processing Facility. The processing facility has undergone renovation and Freedom Meats is in the process of pursuing a retail meat establishment in Independence, Kansas.
Small-scale packing plants can focus on the quality and diversity of products rather than on volume. They can offer personalized customer service and attend to special requests. Nationally branded meat products are often made in fully automated plants, reducing the end product to a mechanized, impersonal food item. And with branded meats, the fact remains that you can never get to know your butcher or request that special cut you were looking for!
The Kansas Small Business Development Center (Kansas SBDC) is part of America's Small Business Development Center Network, the most comprehensive small business assistance network in the United States. Their purpose is to help existing and aspiring Kansas business owners achieve their goals in a complex local, regional, and global marketplace. They work to understand your business and its opportunities by forging relationships with your team to help you meet your definition of success. Are you a small business owner looking to grow or start your own business in Montgomery County, Kansas? Find out how we can help you right here.